Essentials collection ~ Kitchen & Pantry
customer feedback ★★★★★
My bag area in my closet looks straight out of a store. Thanks to the BETTY acrylic dividers.

Nadine Go
All of the baskets I ordered from them are my favorite. Love the quality and design [of the products] and the customer service.

Maxine Ibay
I love this store. One of my best discoveries during this pandemic.

Nana C.
I love organizing my stuff and recently, I bought some organizers from theorganizedhomemnl. I got a few pieces of high quality rattan baskets, and book and pen organizers from them at very reasonable prices. I am very happy with my orders and will definitely order from them again. 

Madel De Vera
This shop is definitely a blessing. I have been organizing the house and luckily found it on IG!

Ren Pasco
5 stars for quality. Buying from other online stores is always a hit or miss.

Julia P.
My favorite items are the RENE remote control organizer, CARMI acrylic bookends and the PATTY refrigerator organizers. I always check their website for new items! I hope they will sell more acrylic things similar to the stuff you see on The Home Edit. :D

Timmy D.
Thank you The Organized Home MNL for the fast delivery. I have been trying to organize our things so I started getting some of their products - to create space that is not distracting and is clutter-free.

Rose Go
Super useful and aesthetic pieces!

Nadine Sebastian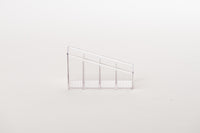 Multi-purpose.
With practicality in mind, most of our products can be used in multiple ways, in multiple areas of your home.  
Shop
Give the gift of organizing - Gift Sets Available
HANA Hanger Bags : How to Use
WHY ORGANIZE?
"People who keep their homes clean and organized are healthier, both physically and mentally. Spending the time and effort to keep your space clean is well worth it."

Ralph Ryback, M.D.
"People are feeling increasingly overwhelmed and powerless in the face of COVID-19, [but with cleaning and organizing], we know the end result and we know how to get there. That's a very comforting notion."

Maggie Vaughan, NY-based pyschotherapist
"A cluttered home can be a stressful home."

Matthew Clark, author, 'How Decluttering Your Space Could Make You Healthier & Happier'
No better time, but now.
Let's take this pandemic as an opportunity to tidy up our homes more, develop organization systems that work and reap the joy of the process + the result.
Follow us on Instagram
For product posts & pegs to inspire your organization journey.